Pediatric Advanced Life Support (PALS) – Initial
(2 Year AHA Certification)  – Same Day Certification Card!
Recommended for any healthcare professionals and medical personnel who may respond to pediatric emergencies.
The PALS Class covers:
The systematic approach to Pediatric Assessment

Management of pediatric respiratory emergencies

Vascular access (Including intraosseous training)

Airway Management

PALS Pharmacology

Basic Life Support (BLS) review

Numerous pediatric case studies and simulations

How to be both a leader and a team member in a pediatric resuscitation team
CE's available for EMS and Board of Nursing! For CME's, please take a PALS online with skills check.
**This class is for those who have never taken PALS before or have an expired PALS certification card.
Class Running Time: Approximately 10 Hours
Click on a class below to enroll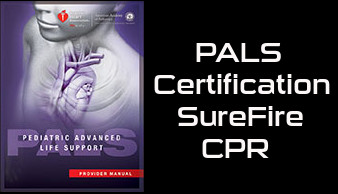 A PALS certification, or Pediatric Advanced Life Support certification, is given when you are properly trained to deal with life-threatening situations involving children. A variety of medical institutions and hospitals use PALS procedures. PALS is not for lay people. Only medical professionals will take PALS as you need to have access to drugs and ECG machines to administer the proper procedures. Professions that use PALS in their training include doctors, nurses, first responders, firefighters, medical students, and paramedics.
In PALS certification classes, you will learn about the different emergency response techniques applied to certain situations when a child's life is threatened by a medical emergency. You will use pediatric CPR and techniques to deal with a variety of potential issues.
 How do I get PALS certified and how long does the certification last?
You will need to take a PALS certification class to get certified. If it is your first time, you would take the PALS Initial Course. If you are renewing your certification, you can take the PALS Update or Renewal. The certification card will prove that you took the necessary number of hours of PALS training and passed the exam. The certificate will last two years, and you will need to renew it after those two years. Make sure to renew it before the two years is up, otherwise, you will have to take the Initial course all over again!
 Where can I take PALS courses?
Surefire CPR offers PALS certification courses at all 4 of our locations. PALS through Surefire CPR is affordable, while also being quick and efficient. If your job requires that you take a PALS class, you can rest assured that their courses meet the necessary guidelines for health professionals.
There are many advantages to doing your PALS courses with SureFire CPR. They are popular not only for our effective and thorough PALS education, but also because of how they teach their courses. First off, you choose your schedule and class type. You can take the course at their training facility or from your home or office. If you choose to do the training at your office, you can choose the time the instructor comes to do your training. This flexibility is why so many people choose Surefire CPR.
In addition to our PALS certification classes, we offer many other certification courses. SureFire CPR offers CPR certification and Automated External Defibrillator training, Basic First Aid, Basic Life Support, Advanced Cardiac Life Support, Pediatric Advanced Life Support, ECG and Pharmacology, Hospital Fire Safety, Neonatal Resuscitation, and Pediatric Emergency Assessment Recognition and Stabilization certifications.  Our instructors are medical professionals, such as EMTs, paramedics, firefighters, and nurses, with years of field experience. The instructors involve you in the training, so everyone in the class is at the epicenter of the learning. Additionally, your course instructors will give you useful insights and advice they have picked up from their years of working in the field.
If you are a medical professional who wants to get your PALS certification, then sign up for one of Surefire CPR's PALS training courses today.
MORE PALS FAQS
Have additional questions about PALS certification? We have answers. Here are some more PALS FAQs with quick answers from our professional team.
What is a PALS certification?
PALS (short for Pediatric Advanced Life Support) is a certification course that teaches students how to properly address life-threatening situations involving children.
Why is it important to get PALS training?
As a medical professional who might encounter pediatric patients while on the job, it is important to complete PALS training. Of course, kids are very different from adult patients! Pediatric cases have unique requirements, and you'll need to know how to provide airway management, basic life support, and more with the special needs of children in mind. PALS training will provide you with the knowledge and practical skills you need to handle pediatrics cases and support young patients to the best of your ability.
How long does it take to get the PALS certification?
PALS certification courses last around 10 hours and can either be one full day of instructor or two shorter days of instruction.
Who needs the PALS certification?
A PALS certification is required for many medical professionals who might work with children or pediatric cases. Completion of a PALS class is highly recommended (and likely required) for any individual pursuing a career in childcare, intensive care, critical care, emergency response, and emergency medicine. This includes physicians, nurses, paramedics, respiratory therapists, nurse practitioners, physician assistants, and more. Please note that a PALS certification is only recommended for healthcare professionals; lay people should not register for this course. If you are not a medical professional but would like to learn more about first aid, we encourage you to look into our Pediatric First Aid and CPR course.
What is the difference between ACLS and PALS?
ACLS and PALS cover much of the same advanced life-saving skills and techniques. Whereas ACLS applies these skills to adult victims, PALS applies them to children and covers specific respiratory and cardiac problems most typically seen by healthcare providers.
How do you pass the PALS certification?
To earn your PALS certification, you must complete the PALS class and past the end-of-class assessment tests.
How Do You Receive Your PALS Certification Card?
In order to receive your PALS provider card, you must pass PALS certification by completing both PALS class and the corresponding assessment tests. You will have access to your PALS certification card (they are now Ecards) upon successful completion of the course.
Can you get PALS certification online?
To get an American Heart Association PALS certification you can take a hybrid online course. A portion of the course, including the exam, are taken online and then the hands-on skills are performed in person. These skills checks are taught by PALS instructors and typically last 30 minutes to one hour. 100% online PALS courses are not usually accepted by hospitals and some employers.
Why Should You Get PALS Certification From Surefire CPR?
Getting your PALS certification from SureFire CPR is convenient, efficient, and effective. We know that your schedule as a healthcare professional is incredibly busy, so we offer training and certifications that can fit into your lifestyle. We have multiple PALS certification locations at our offices across California, and we offer many different day and time slots. Our team understands how important it is to receive quality training because we are first responders ourselves. Our courses combine interactive lessons, hands-on experience, and real-world examples to keep class both informative and engaging.
If you have any questions about our PALS class or any of our other course offerings, please feel free to reach out today by calling us at (888) 277-3143 or filling out our online contact form.