Neonatal Resuscitation Program (NRP) – Online With Skills Check
(2 Year Certification) – Same Day Certification Card!
Recommended for Healthcare Professionals involved in the delivery and care of newborns including Pediatricians, RTs, and RNs.
The NRP Class covers:
How to Identify and Use Neonatal Resuscitation Equipment
Initial Assessments of Newborns
Positive Pressure Ventilation
Neonatal CPR and Intubation
Medication Dosing and Administration
Integration of all Neonate Skills (Neonatal Megacode)
PLEASE NOTE – The AAP has updated the NRP Course. As of January 1, 2017, only the 7th edition online course will be valid.  Please make sure to complete the 7th edition course if you are doing a skills session after January 1, 2017.
The NRP online certification course includes two parts:
Part 1 – A self-paced series of online training modules of lessons and eSim Cases (3 – 8 hours based on experience)
Part 2 – The Instructor-led skills session (2.5 hours)
To access Part 1 of the NRP course, go to www.healthstream.com/hlc/aap. The online portion of the course is $35 and will be paid directly to Healthstream once you have created an account.
** Once you have completed Part 1, you have 90 days to complete Part 2.
Click on a class below to enroll
NRP Certification
Neonatal Resuscitation Program
Newborn infants are among the most vulnerable patients medical professionals will ever treat. Their needs are highly specific, both in terms of physiology and likely medical events. At the neonatal stage, any crisis must be met with immediate and appropriate attention to prevent serious harm or death. The neonatal resuscitation program, co-administered by the American Association of Pediatrics and the American Heart Association, provides rigorous training for healthcare professionals who may be in a position to save a baby's life in the event of an emergency. Given its critical implications, certification is required for all Labor and Delivery personnel – from nurses to lactation consultants – as well as paramedics or emergency medical technicians who may have occasion to find an ailing infant on the scene.
Getting NRP Certified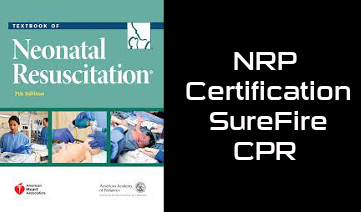 If you're a healthcare professional or you're in training to become one, NRP certification is either mandatory or advantageous to your career. At SureFire CPR, we offer industry-leading NRP classes to all those who are qualified to take them in the area of Southern California. Although part of the curriculum is handled online, a mandatory skills test must be administered on site at one of our locations to complete the program and achieve NRP certification. Our blended-learning NRP class is approved by the American Association of Pediatrics and the American Heart Association, giving you the full spectrum of skills and knowledge you will require to treat a neonatal medical event.
A Standard-Setting NRP Class
Currently in the NRP seventh edition textbook, the neonatal resuscitation program represents the highest standard in emergency care for newborns, relying on a broad-based body of empirical research and practice to arrive at a standard protocol. Adherence to its guidelines can mean the difference between life and death, and so its adoption by medical professionals must be administered as rigorously as possible.
Our NRP certification program is taught by neonatal intensive care specialists with direct current experience in their field. All resources employed are the best available, including an emphasis on advanced equipment for the skills test that completes the training. Medical professionals can be confident that the training they receive at SureFire CPR is at the highest level, and that they will acquire all skills necessary to emergency neonatal care by the time they receive NRP certification.
Explore our course offerings to find out how we can help prepare you for your medical career.
Technical Requirements to complete Part 1:
Internet Connection – 256Kb/s (32 KB/s) or above
Windows PC:
Windows 7 or better with a mouse, keyboard and screen 1024 x 768 or better
Internet Explorer 9 or better with Flash 11 or better
Firefox latest version with Flash 11 or better
Google Chrome latest version
Mac computer:
OSX 10.10 or better with mouse, keyborad and screen 1024 x 768 or better
Safari latest version
Google Chrome latest version
iPad:
1 Gb memory or better
iOS 9 or better
Safari browser