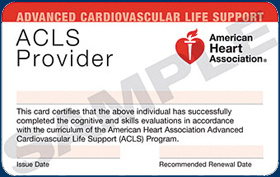 If you are someone who wants to work in a medical institution and needs an Advanced Cardiovascular Life Support certification (ACLS certification), then you may have some questions regarding the certification.  Look no further, we have the answers to these questions and more.
What is ACLS Certification?
ACLS stands for advanced cardiovascular life support and this certification is required by professionals and medical personnel who may respond to a cardiovascular emergency.  The ACLS certification course covers recognition and early management of respiratory and cardiac arrest, airway management, ACLS pharmacology, basic life support review, management of acute coronary syndromes and stroke, and how to be both a leader and a team member in a resuscitation team.
How long does an ACLS certification last?
An ACLS certification lasts for two years. Depending on where you get certified, you will have to renew it within that period. When you are certified by the American Heart Association, renewal is easy. All you have to do is find an open class before your expiration date and complete the renewal course to get your next 2 year certification card.
Who needs ACLS Certification?
ACLS certification is recommended for medical professionals that respond to cardiovascular emergencies.  This could be EMTs, paramedics, firefighters, respiratory therapists, nurses, and doctors.
Where can I get ACLS certified?
If you are looking for an American Heart Association-certified facility to receive your ACLS certification, then look no further than Surefire CPR. We provide the necessary training for you to become ACLS certified. Our facilities are based in Orange County and we serve San Diego and Los Angeles Counties as well and will provide you with all the information you need to learn about ACLS.
What are the ACLS certification requirements?
There is one pre-requisite for ACLS certification and that is BLS or Basic Life Support Training.  If you haven't completed this pre-requisite training, SureFire CPR also provides BLS certification courses in Southern California.   Once you have your BLS certification, you can register for an ACLS certification.  You will be required to complete a written exam and lead a megacode to receive your certification card.
We highly recommend taking ECG and Pharmacology as a prep course for ACLS Certification. It is not required, but will make your ACLS class much easier. If you are interested, you can sign up online or call us to schedule your ECG and Pharmacology class!
Why should you choose Surefire CPR to help you get ACLS certified?
SureFire CPR's instructors all currently work in the emergency medical field as well as teach ACLS.  Each instructor has real life experience that provides you with invaluable assistance in your ACLS training. Additionally, the instructors make you an integral part of the training, so everyone in the class is at the center of the learning. SureFire CPR also provides you with the state-of-the-art equipment for practicing and learning. Certification courses can either be taken at their training facility or onsite in your home or office.
If you are someone who wants to become ACLS certified, or if you have often asked yourself, "What is ACLS certification?" and you want to learn more, contact Surefire CPR now.